[caption id="attachment_1560" align="alignleft" width="300"]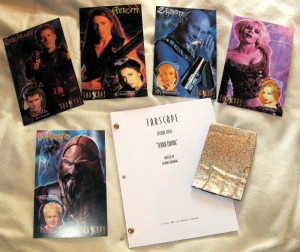 Yes, that's an actual piece of one of Moya's interior "ribs."[/caption] The wonderful folks at
Con or Bust
, which helps people of color/non-white people attend SFF conventions, are once again holding their annual fundraising auction of all kinds of amazing stuff, and once again I've tossed in a few
Farscape
items that you Simply Won't Find Anywhere Else, including a never-for-sale Farscape T-shirt, shooting scripts for "Incubator" and "Terra Firma," and THREE actual pieces of Moya!
See all my Farscape auction items here!
So what are you waiting for? Go! Bid!
And hurry! The auction ends February 23, 2014.
(Oh, and if absolutely nothing in the entire auction strikes your fancy, or the bidding's too rich for your blood, you can simply
make a donation
 via PayPal to help this most excellent cause.)
ETA
: Thanks to everyone who bid! The auction's now over and these three
Farscape
 lots snagged 
$490 
for Con or Bust! Pizza and margarita shooters all round!