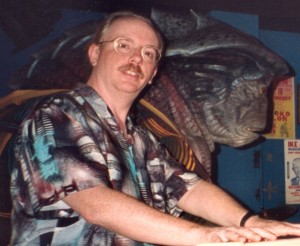 Richard Manning has been a television writer/producer for… well, for longer than he cares to remember. His writing/producing credits include Farscape, When Calls the Heart, TekWar, Star Trek: The Next Generation, Knightwatch, Once a Hero, and Fame. He has also written episodes of Sliders, Star Trek: Deep Space Nine, Exosquad, Space Precinct, She-Wolf of London, and some even more obscure stuff. With longtime writing partner Hans Beimler, he co-created Beyond Reality, a half-hour science-fiction/fantasy drama for the USA Network. He created Fusion, a webisode series, and shot the pilot (which can be seen here) with a bunch of insanely talented, generous, and fearless volunteers.
Ricky is available for private consultations.
He frequently teaches television writing for the UCLA Extension Writers' Program (and has a ball doing so). He recently taught a six-week TV pilot writing course for the Master's Program "Serial Storytelling" at the ifs internationale filmschule köln in Germany.
He grew up in various suburbs of Cleveland, Ohio, and attended the same high school (Bedford High) as Halle Berry (alas, not remotely at the same time), after which he travelled west to study Cinema Production at the University of Southern California. He has lived and worked in Los Angeles, Toronto, and Sydney, despite the language barriers. He adores the work of Sergei Prokofiev, Buster Keaton, Keith Jarrett, the brothers Coen, John le Carré, Preston Sturges, the Who, and Monty Python. He (responsibly) imbibes single malt Scotch and Australian beer. He is midway through his second marriage. To the best of his knowledge, he has no children.