"Thanks for the Memories"…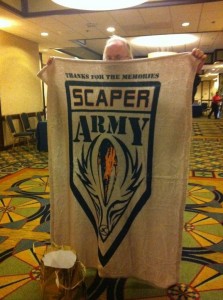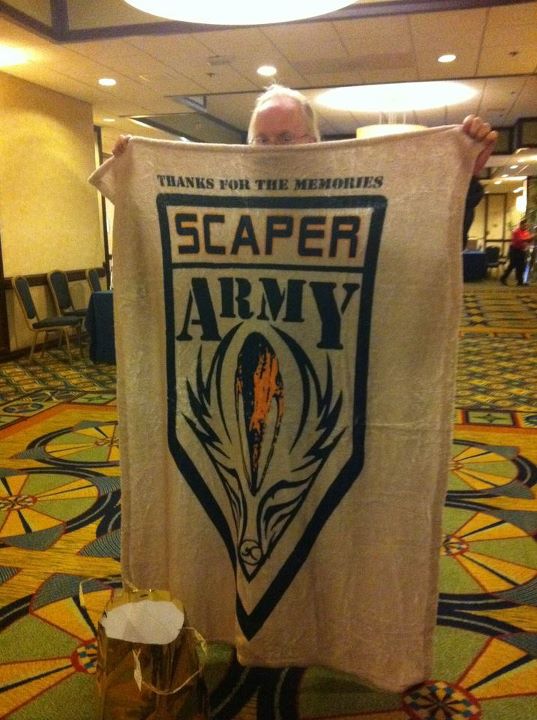 Since 2000, Creation Entertainment has hosted annual Farscape fan conventions.
What's a "fan convention," you might ask? Simply this:
An opportunity for the cast and crew to meet the fans! 
And the fans don't just pose for photos and sign autographs. They put on costume shows, panel discussions, and talent exhibitions, and they show off their amazing vids, fanfic, and other artistic creations.
I recently attended what was billed as the "final" Farscape con (but I don't believe it; when it comes to Farscape fans, nothing is ever "final") and was going to write up a con report, but I thought I'd instead share a few happy snaps and memories from a dozen years of congoing.
Here, for instance, is a gift I got at the most recent con: a fleece blanket, "handmade with Scaper love" by the talented SpriteLady, and made possible by donations from over 50 generous Scapers at TerraFirmaScapers.com!
(And I wasn't the only cast/crewmember to get one of these beauties! Ben, Rockne, Wayne, Virginia, Lani, and Rebecca, to name just a few recipients, were just as gobsmacked and delighted as I was.)
Costumes
They aren't just conventions, they're costume parties!
Here I am at the 2001 con with members of the "Peacekeeper Officers Lounge"… a group of online chatters, roleplayers, and Rockette impersonators.
(How cool is it that Farscape fans are so willing to mix and mingle with cast/crew and even pose for pictures!)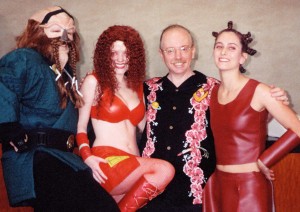 More Costumes
Many fans work up not only costumes but also makeup and hair as well… and given how elaborate Farscape's prosthetic makeup and crazy hair could get, that was often quite a challenge.
However, year after year, the fandom proved equal to the challenge, as this snap from the 2002 con illustrates.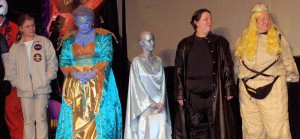 Still More Costumes
Every con has a costume contest, and here are just a few of the astonishing entries in 2003.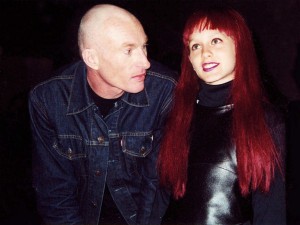 One More Costume
Rain-n-Sun poses as Scorpius's assistant Niem (a character nicknamed "Peacekeeper Barbie" by the fanbase) with Wayne ("Scorpius") Pygram.
This is a rare photo of Rain-n-Sun smiling while in costume; she seemed so solemn throughout the con that Wayne finally asked her if everything was okay… and she replied that all was fine; she was being serious because she was staying in character.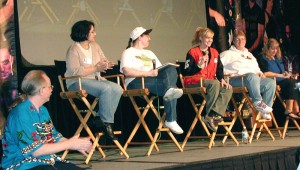 "Farscape on the Net" Panel
But it's not all dress-up. Scapers are smart. Over the years, they've staged many fascinating and informative panels.
Here you see me in awe of Angie, Thinkum, AmyJ, KernilCrash, and un4scene as they explore the topic of "Farscape on the Net" at the 2003 con.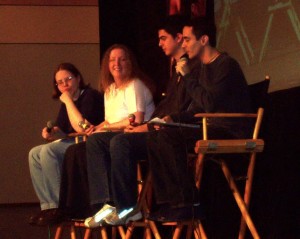 "Saving Farscape" Panel
Also in 2003, Red, BritAngie, DaniMoure, and Voy discuss the campaigns devoted to "Saving Farscape."
The series had been cancelled over a year earlier, but that didn't deter the true-blue fans one bit; they mounted an incredibly persistent, thorough, and intelligent campaign to bring the show back.
And, unlike most save-our-show fan efforts, it worked; the Jim Henson Company produced a four-hour miniseries to continue the Farscape saga—and it was the Save Farscape campaign that made it happen.
But the fan efforts didn't end there; websites such as watchfarscape.com are still going strong, bringing the latest Farscape info to the new fans who are discovering the series.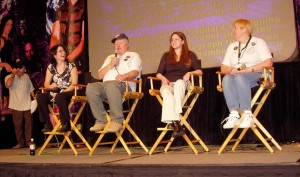 Fanfiction Panel
A series is nothing without its writers… and Farscape's fanfic scribes are second to none.
Here, at the 2003 con, four of the finest—Cofax, UCSBdad, Shrift, and AerynCrichton—share tips, insights, and their favorite adverbs.
Standing to the left of the panel is Adam Malin, co-founder (with Gary Berman) of Creation Entertainment (in 1971!). Adam's been the indefatigable host for a zillion fan conventions ranging from Farscape to Xena to Stargate to X-Files to Star Trek to… you name it.
Together with a tireless crew of terrific people (special shoutout to Richard Arnold, with whom I toiled in the Paramount vineyards many eons ago on Star Trek: The Next Generation), Adam's put on some frelling fantastic Farscape bashes, year after year after year.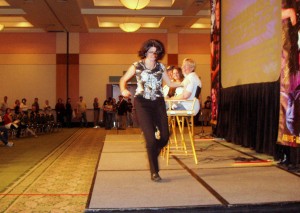 Fanfic Panel Q & A
Most of the panels take questions from the audience; we line up at microphones on either side of the stage and ask something probing and intelligent.
At least that's the theory.
In practice, there's always some tongue-tied, star-struck newbie who gushes over the panelists or—God forbid—asks for a hug.
For the 2003 fanfic panel, that star-struck newbie was me!
Yes, I knew better, and I think I had a real question to ask—but when my turn came, I couldn't stop myself from blurting out "Can I have a hug?"
Wonder of wonders, Cofax leapt up, rocketed across the stage—so fast that I barely had time to snap this picture—and gave me an excellent hug!
BESTEST. CON. EVER.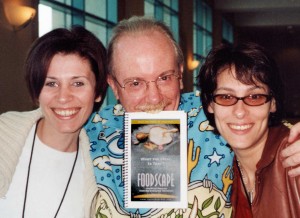 Pressies
(that's Australian for "presents")
As if faithfully showing up to cons weren't gift enough, fans also make things to share with cast and crew.
In this 2002 pic, BOFQs BFFs BNFs (I've forgotten the applicable fanacronym) Maayan and Makikosab have just fed me a copy of Foodscape, a fan-compiled collection of favorite recipes with a Farscape twist.
Better still, M & M, as well as numerous other fans, were kind enough to autograph my copy.
(And the recipes proved to be even tastier than the book!)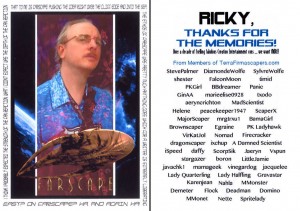 And finally…
To bring us full circle to the 2011 con, here you see the lovely custom-made card that accompanied the gift blankie I was given.
I was especially moved by the very first name on the list: StevePalmer, a longtime and particularly devoted Farscape fan who passed away in 2006. Scapers presented a heartfelt memorial tribute to Steve at the 2007 con. (This is the kind of thing I point out when I tell folks that the Farscape fandom truly is a community.)
Thank you for the memories, everyone.
As DK once said, "Stay a community."
---
Gallery of above pix (click for larger versions):