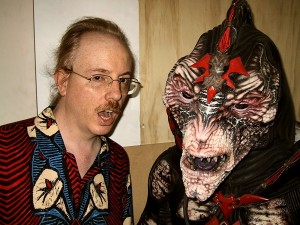 "Genre" television — science fiction, fantasy, and other so-called "non-mainstream" shows — is expensive, tough to produce, and tougher to produce well.
The occasional breakout hit notwithstanding, it's also a niche product, constantly struggling to corral enough viewers to survive. And it's next to invisible at the Emmys or BAFTAs.
In short, it gets no respect.
So why do we make it?
Two simple reasons: money and groupies.
All right, I confess: there's a third reason…
Director Orson Welles said that a film studio was "the biggest electric train set any boy ever had."
Well, making a genre TV series is like playing with a train set and a squadron of radio-controlled model airplanes and a Build-Your-Own-Robot Kit and a HyperGameStationPlayCubeXii2 all at once . . .
It's fun.
Now it's true that by the ninth week of production, we bleary-eyed producers will be swearing that the next series we work on will be Forty-Four Minutes of Two Actors Sitting Around Talking. No aliens, no spaceships, no CGI, no prosthetics, no pyrotechnics, no animatronics, no weird costumes, sets, makeup, or props . . . no weird anything.
Don't you believe it. We'd be bored out of our skulls in two acts flat.
You haven't lived until you've spent eight hours in a writers' room with six madmen and madwomen having a violent argument about the logic of time paradoxes.
Or pondered, in a production meeting, what color(s) the Alien of the Week's bodily fluid(s) should be. ("No, we did lime green two episodes ago on the Tavloids, remember? How about red-orange?" "Naah, it won't show up well 'cause the creature's scales are gonna be orange. Maybe purple?")
Or sat in a screening room during a final sound mix and been blown away by an episode that's finally all put together — with astonishing computer graphics, thundering sound effects, and a stunning musical score.
What's more, this stuff's also fun to write. Where else can you tell stories like these?
A planet of primitive aliens mistakes a visiting human for a god — and prepares a human sacrifice.
A living spaceship gives birth to a dangerous, weapons-laden offspring with a bad attitude.
A person links minds with a wolf — and gets a rush from commanding it to kill.
A lost human traveler finally returns to Earth, only to find that: (1) this Earth is just a gigantic alien simulation; (2) he never left and it was merely a weird dream, or; (3) Earth's real, but it ain't home no more.
Really, there's not much one can't write in a genre show. A musical? Joss did it on Buffy. A Looney-Tunes-style cartoon? DK did it on Farscape. Horror movie? Fifties perfect-world sitcom? Existential surrealism? Cops? Bug-eyed monsters? Western with ray guns? Been there, done those, had a blast.
Oh, I suppose this is where I ought to blather on about speculative fiction speaking to the human condition as no other genre can, presenting societal analogies and archetypal myths and bla bla bla.
And, you know, all that term-paper talk is true enough. The genre can pack a mean allegorical punch at times. There is actual nutritive value to be found now and again.
But that's part of what makes it fun: the ability to say Darned Near Anything. To poke taboos with a sharp stick. To extrapolate where no television has extrapolated before. To dream the impossible dream — sorry, didn't mean to turn this blog into a musical.
Okay, now that you've decided (correctly) that some (if not all) TV writer/producers are raving lunatics, let's talk about you.
Why do you watch this stuff?
(Assuming you do, of course. And other than the obvious reason that you possess above-average taste and intelligence, of course.)
I mean, folks, you're definitely in the minority. Far more people have seen Law & Order or American Idol than have ever seen Smallville or Pushing Daisies.
And watchers of The Office don't get stigmatized as "geeks" or "nerds." NCIS fans aren't generally advised to get a life. Show up for jury duty in a dress Susan wore on Desperate Housewives, nobody blinks twice. (Well, unless you're male.) But show up in a Starfleet uniform — and it makes it onto CNN.
Granted, some of you are almost as loony as we are. But having met a fair number of you online, in print, or in person, something else is clear to me:
Compared to the Vast Television Audience, you Genre Fans may be relatively low in number — but you're unbeatably high in passion.
You don't just watch, you participate. You discuss episodes online as you watch them. You create websites, fanfic, and vids. You attend conventions for your favorite shows, long after they're off the air. And you organize sustained, elaborate, and heartfelt campaigns to get your favorite shows back on the air.
Why? Why such intense devotion?
I suspect that you could now blather about Futurism and Optimism and Romanticism and Escapism and Lotsofotherisms . . . but I suspect it would also boil down to this:
Sure, genre television can be challenging and inspiring and mind-expanding and all that, but first and foremost —
It's fun.
And, hey, that's a perfectly good enough answer for me.