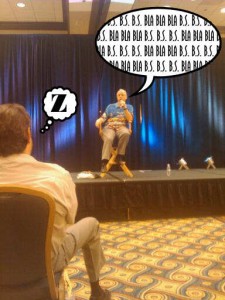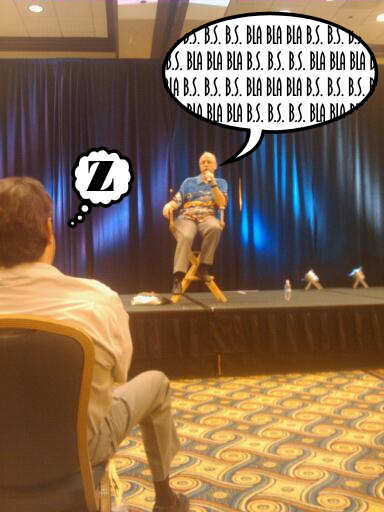 A few random musings on attending and speaking at the 2010 Farscape Convention…
Farscape has the Best Fandom Ever. Lunatics all, but charmingly so.
The Los Angeles Right Under the LAX Approach Path Marriott Hotel has perhaps the worst public address system I've ever heard; my ears are still bleeding.
Ben Browder is still pretty. And funny.
Ditto Fran, only moreso.
Public speaking is much more fun if you wing it entirely with little or no regard for the truth.
When e'er my profession seems drab or burdensome, I have only to remember two words: writer groupies.
Few people live up to the sobriquet raconteur as well as Jonathan Hardy.
Did I mention that our fans are utterly crazy?
Nobody holds a candle to Virginia Hey, because she makes her own.
A Farscape con is the one place on Earth where I can't say "I'll be easy to spot because I'll be wearing a Mambo Loud Shirt."
ETA: Thanks for the happy snap, Tina!